On Monday, June 27th, four members of the Guardians of Justice traveled into idyllic Eustis to visit Camp Boggy Creek. Boggy Creek is a week-long summer camp that seeks "to foster a spirit of joy by creating a free, safe, and medically-sound camp environment that enriches the lives of children with serious illnesses and their families." And from their sprawling campus to their cheerful volunteers they truly do just that!
Gabby and Connor are two of those cheerful volunteers who escorted our he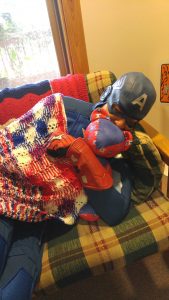 roes via golf cart to the camp's mess hall for a breakfast visit with the children.