About the Guardians of Justice
Guardians of Justice was initiated by local residents of Central Florida to merge their passion of costuming and combine it with a deep-rooted desire to give back to the community. Each member of the Guardians embodies the mantra to "inspire, support, motivate and empower" children and adults alike by fully bringing the characters they portray to life.
Executive Director, Xavier Serrano, founded Guardians of Justice in early 2014 after seeing a need in the community to create lasting memories for children and family members who are directly affected by medical diagnoses. Since it's inception, his initial vision for the organization has grown further than making smiles – It has also provided an outlet for costumers willing to donate their time to this profound cause.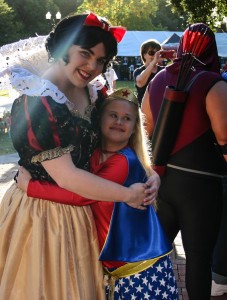 Mike and Tracy Zettinig, co-founding members alongside Xavier, collaborated in a relaunch of the brand in April 2015 with structured guidelines and policies to take Guardians to the next level. Since the relaunch, a new logo and website have also been introduced along with an extremely active social media presence. Boasting over forty active members that represent a plethora of characters such as heroes, princesses, villains, adventurers and more – Guardians of Justice collectively centers around positively impacting each child's realm of imagination.
The Guardians attend around 20 charity events per year collaborating with more than a dozen local organizations. Notable charities with gladly donated time and memory-making have been organizations such as BASE Camp Children's Cancer Foundation, Autism Society of Greater Orlando, Nathaniel's Hope, and Down Syndrome Society of Orlando.
Betsy Poore, an attendee at one of our past Autism Family Fun Day events, recalls a memory made with her child who had the opportunity to meet Batman that morning:
"My son doesn't just have Autism, he also has a genetic disorder called Neurofibromatosis. He sees many specialists and spends a lot of time going from one doctor to the next. He experiences aches and pain that no child should know daily and to him – Batman is a symbol of hope and courage. Thank you for taking the time to stop for pictures, complimenting his Batman shirt, and giving him a hug. It may have seemed small at the time, but it made a huge impact on him."
With tremendous plans of becoming a nationwide presence, Guardians of Justice's sole purpose is to encourage and motivate communities to imagine something greater than today's version of themselves and unite to support a common cause. Long term goals for the organization would be to one day host their own events to raise funds and awareness as a separate entity. Guardians of Justice are constantly accepting new applications to become part of their league.
Samantha, one of our members, had this to share after her first event experiencing the magic of what the Guardians are all about:
"I chose Guardians of Justice due to the fact that they truly want to do this for the kids and not for the attention. Being with Guardians, I could feel the camaraderie but by the same token, they are warm and welcoming to new members. They want us to succeed and be a special part of a child's life – even for just a moment."