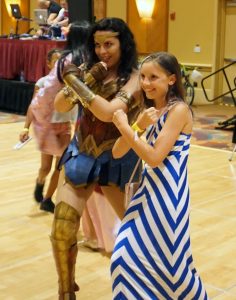 What a fantastic evening with Base Camp's Christmas in July! Spirits were high and the Children were full of energy and excitement to meet with all their favorite Heroes, Villains on good behavior, and Princesses at the Rosen Centre.
It is always such a joy to see big smiles on the faces of happy kids and their parents, and it is even more rewarding to be a part of that experience. A lot of Children participated in dancing to the tunes the DJ spun and showed off with big grins on the dance floor.
It was great to be goofy together and involve everyone in the fun. I was touched and surprised to run into many children who remembered my last visit with them this past December, and it was lovely to give out hugs and see what they've been up to since the Winter.
I hope to see their faces again this coming December and will always look forward to magical events like these!
Base Camp Children's Cancer Foundation's mission is to provide a year-round series of programs for children and families facing the challenge of living with cancer, and other life-threatening, hematology related illnesses.