On Monday, June 27th, four members of the Guardians of Justice traveled into idyllic Eustis to visit Camp Boggy Creek. Boggy Creek is a week-long summer camp that seeks "to foster a spirit of joy by creating a free, safe, and medically-sound camp environment that enriches the lives of children with serious illnesses and their families." And from their sprawling campus to their cheerful volunteers they truly do just that!
Gabby and Connor are two of those cheerful volunteers who escorted our he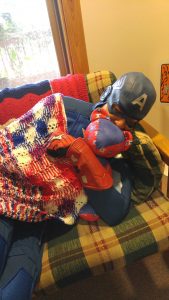 roes via golf cart to the camp's mess hall for a breakfast visit with the children. Tinker Bell had a bit of a challenge getting her wingspan to fit inside the vehicle, but with a bit of adjustments – luckily we didn't need to cut out a sunroof for her.  Walking into the mess hall, an overwhelming aroma of their french toast breakfast smelled amazing!
Each camper is grouped by age and then divided by team color. Each team color has its own unique and rousing chant. There was Haka style dancing by camp leaders and children pounded their fists on the long family-style picnic tables. Their spirit was deafening while each group did their best to out-chant the other before them.
Captain America confided in Connor and the Camp Operations staff that he had never been to Summer Camp before, so he was especially excited to visit with the children and (although it was early in the camp week) talk to them about their experiences so far.  Rogue joined him as they joked with the camp attendees about Cap's lightweight "prop shield" that he uses for training. Cap explained to each group gathered around that Tony Stark (aka Iron Man) wouldn't return the actual Vibranium shield. Rogue quipped that he was just mad Steve had "stayed up all night to get Bucky."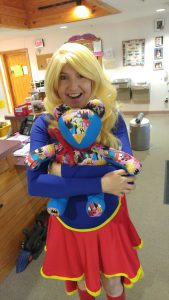 Across the breakfast hall, Tinker Bell and Supergirl paired off as a flying blonde dynamic duo as they greeted campers who were excited to see a Pixie and the hero of National City getting along so well. Children gave them sticky maple syrup hugs and posed for photos with our ladies. One child even asked Supergirl where she got her amazing red boots because she wanted a pair just like them. Despite clamors for a demonstration of each of our Guardians' powers – all the heroes agreed it would be a better idea to dance than it would to fly around the breakfast hall.
After everyone ate, the DJ started playing familiar and not so familiar songs –Captain America was finally introduced to N*Sync by way of "Dirty Pop" (which even Tinker Bell knew the words to!) as he promised Rogue that boybands would go on his list of things to check out.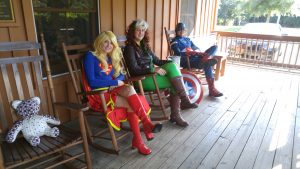 All of our heroes learned a new dance when "Ice Cream and Cake" by the Buckwheat Boyz came on. Although the lyrics are easy (hint, they're in the title of the song!) the moves combine various popular dances, including bits of the Macarena! Next, everyone was surprised to discover a new dance to Space Jam! Our heroes were full of laughter as they tried to keep up, as their fight training and pixie dust proved to be no match for these energetic campers and staff.
Breakfast was over way too soon! Guardians of Justice cannot wait until their next opportunity to attend Camp Boggy Creek – a truly inspiring place.
Save