On Saturday, May 30th, The Autism Society of Greater Orlando hosted their 10th Annual Autism Walk & Family Fun Day and Guardians of Justice was there to cheer on and meet the nearly 3,000 participants. ASGO is a volunteer organization that works to better assist families of children and adults with autism in the Central Florida area.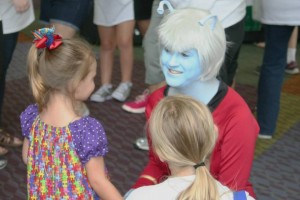 The North Concourse of the Orange County Convention Center was filled with excited families- all there to raise awareness for autism and have a great time. Batman, Night Wing, Space Ghost, Captain Jack Sparrow, Raven, The Punisher, Hawkeye, Black Widow, a Star Trek Andorian, Green Army Man, and a Portal Test Subject all banded together to bring smiles to all they met that morning.
Our Guardians started their day by roaming the floor and meeting lots of new friends for photos and hugs. A few even joined in the fun of one of the dance parties!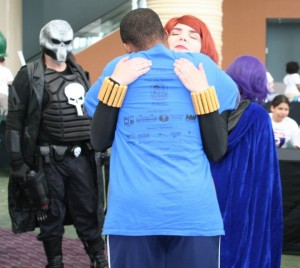 The Family Fun Day was a huge event filled with many different activities for everyone in attendance. There were dance parties, lots of games, a bounce house, photo booth, clowns, balloon animals, and face painting. A silent auction was held to help raise funds for the Society and autism awareness. Friends from other area groups were there to hang out with participants as well, like Shamu, Shades- the Orlando Solar Bears mascot, a Dunkin' Donuts donut, and the Chick-Fil-A Cow. First responders from the Orange County Sheriff's Office and the City of Orlando Fire Department helped everyone feel like a hero with fun giveaways and the opportunity for guests to take a photo on an actual Orange County Sheriff motorcycle!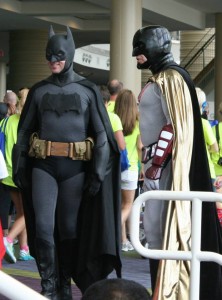 Around 10 o'clock, the Walk & 5K began! Teams and individuals walked the route around the hallway of the concourse and our heroes were there to cheer everyone on.
The record-breaking crowd helped ASGO raise $120,000 to continue their support for children and adults with autism. Guardians of Justice had a fantastic time at this event and want to thank the Autism Society of Greater Orlando for inviting us to join in the fun!