On Saturday, May 23rd, the Guardians of Justice were invited to join in on the fun at Alafaya Library to kick off their summer reading program with Superhero Saturday.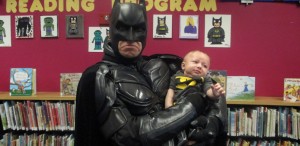 The library has themed their summer program around super heroes and our Guardians were happy to attend! Vigilante, Starlord with Rocket and baby Groot, Supergirl, Raven, Batman, Black Widow and Hawkeye were in attendance and gladly joined by two fellow costumers, dressed as Wolverine and Spiderman. Our heroes loved meeting all the kids and their adults on Saturday from within our meet and greet area that the library had set up for us.
The event also held many awesome things for all the attendees as well as meet and greets with super heroes. Kids loved the opportunity to get painted up as Wonder Woman, the Hulk, or Spiderman by the resident face painter on hand.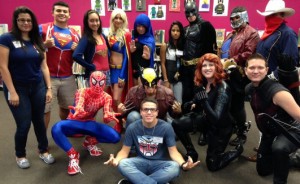 Also, in the back area of the library, many were able to join in and get filmed for all the footage to be added into a heroic movie. Paws for Reading were also there and kids were given the chance to read to an adorable therapy dog who didn't quite know what to think of Batman. There was a wealth of coloring book pages of everything from X-men to Avengers to be colored. Comic books and posters were given out and there was a great Avengers backdrop to take photos in front of with really cute props.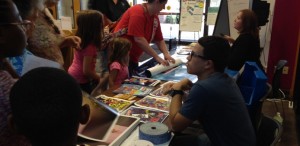 We had a lot of memorable moments while at the Library. There is always something special about seeing how the kids will light up when seeing their favorite heroes. Even babies dressed in their hero attire were able to enjoy our presence…one very young baby was able to be held by Batman while another got to be held by Spiderman. We had an amazing time and were treated very well, we're already looking forward to next year's event. The kids that will be attending Alafaya Library's Superhero Reading program this year will be having a great time!