The Guardians of Justice were not the only Superhero's at Ocala's 4th Annual Outreach autism Services Network's Best Outcomes Walk which has been dubbed OaSN Super Hero Autism Walk after the Guardians made such a lasting impression on the walk last year.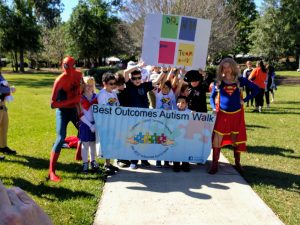 OaSN utilizes this Autism focused walk each year to help raise funds for their organization and to have a little extra fun. Outreach Autism Services Network Inc. ™, (formerly Ocala Autism Support Network), OASN, is a nonprofit agency founded May 12, 2011 offering free autism services to the community. OASN was founded to facilitate the BEST outcomes™ for individuals with autism through education seminars, respite care, social skills classes, referrals, support meetings, events and more.
Supergirl, Spiderman and Princess Belle lead the way for the many costumed young heroes, holding the banner high with assistance from two young walkers dressed as there heroes a Firefighter and a member of the Swat Team. The mile long walk wound through the beautiful trails of Ocala's scenic Sholom Park with booths and activites along the way, including drawing, pie face contests, bean bag throwing, Karate demonstrations and many more.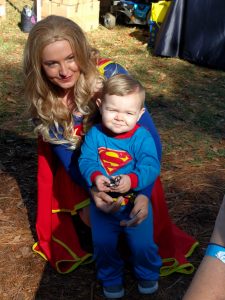 The activities continued with a costume contest co judged by the Guardians and the many Autism Volunteers. After each contestant's introduction and much deliberation the winners were chosen. Most creative went to "Bat-Chef" Crime fighter by night and bakery chef by day with a spin of his cape transformed into a chef apron. Best overall was awarded to "Sailor Moon" for her pint sized replica and a close runner up was Supergirl's favorite, an adorable Supergirl in training.  Belle's favorites were of course the princesses, including the superhero crossover of "The Flash/Princess" who has both speed and poise.
Spiderman made a special friend, Ruby whose superpowers were giving the biggest hugs and kisses on Spidey's nose and big bug eyes.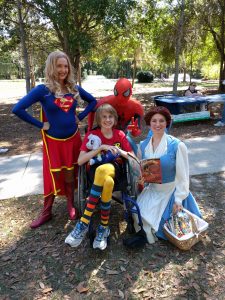 Our hero's each had their fans, even the four legged variety, Kennedy, an Autism service dog and her young brother which Supergirl nick named Krypto, were happy as our heroes were to meet them. The day was concluded with a Karate demonstration from
The Guardians of Justice were very proud to once again join with an amazing giving organization to help bring smiles and support to eager young heroes