Our Guardians followed colored eggs back to the community of Village Walk to help participate in their annual Easter festivities on April 15th.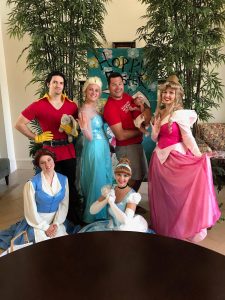 Our wonderful princesses and the always self complementing Gaston,  traveled from their respective castles to come play with the families of the Village Walk community. The event started with a bunny hop sack race where we cheered on the little hoppers.
Then began the hunt! The hunt for eggs that of course held the best surprise of all candy! Our Guardians assisted the children in their search efforts for the eggs, hunting through bushes and even finding some right out in the open.
At the end of the hunt each of our Guardians participated in the Easter basket raffle each member pulled out a name out of a big basket the declaring the winners of the prizes.
 As much as we enjoy visiting the families of Village walk they enjoy our visits more.  This year they also collected donations for the Guardians of Justice and we thank those who gave!
Save