On Friday, May 20th The Guardians of Justice answered the call and payed a visit a very brave young man who was staying at the Florida Hospital for Children's Walt Disney Pavilion. This little hero was recovering from surgery after having a brain tumor removed just the day before.
As The Guardians arrived for their visit he was watching a Spider-Man video on his mother's phone. Imagine his surprise as Spider-Man himself came into the hospital room to meet him! Spider-Man was joined by Green Arrow and the Green Goblin -who had agreed to a truce for the day with Spider-Man for the sake of the children.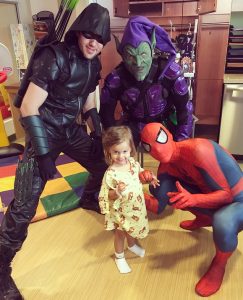 Our Guardians of Justice Heroes were assisted by Children's Hospital Administrator Nussi Afroz and she escorted them through the 3 floors of the hospital where they met and interacted with the other brave children in Florida Hospital's care. Our Heroes (and one Villain) assisted with arts and crafts and attempted to show off their crayon skills only to eventually be schooled by the true artists, the kids.
Who demonstrated their artistic talent which included making an Amazing figure of Spidey. Green Goblin showed off his technical gadgets with beeping pumpkins and lights that delighted many of the children. Who commented that the pumpkins reminded them of the medical devices they themselves were hooked to and that also beeped and lit up. Green Arrow, the Goblin and Spidey were invited to sing Happy Birthday for a young man that the hospital staff were having a party for.
The staff were extremely friendly and it was abundantly apparent that they genuinely care for all their children and they became like children themselves as they all wanted pictures with our group. It remains to be seen if the Green Goblin will stay on the "straight and arrow". But the visit did serve to recharged all of us and Spider-Man has sworn to do his best to keep the peace with Goblin and eventually return to visit the true heroes, fighters, and lifesavers.