On the bright and sunny afternoon of Sunday, May 15th, Guardians of Justice kicked it into high gear to support the Florida Kraze Krush Soccer Club Jamboree. The good folks at TOPS hosted the event at Central Winds Park to gather all the programs in the Florida Region B (Orlando, Ocala, Daytona all the way to Jacksonville) to celebrate a great year for these special kids who love the game of soccer.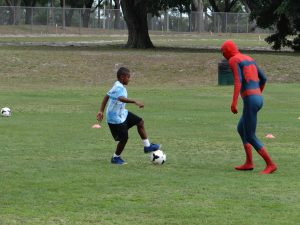 US Youth Soccer TOPSoccer (The Outreach Program for Soccer) is a community-based training and team placement program for young athletes with disabilities, organized by youth soccer association volunteers. The program is designed to bring the opportunity of learning and playing soccer to any boy or girl, who has a mental or physical disability. The goal of this fantastic organization is to enable the thousands of young athletes with disabilities to become valued and successful members of the US Youth Soccer family.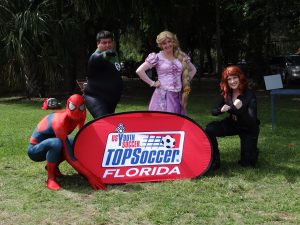 Our Guardians had a fantastic time at the event. Black Widow, Spider Man, Green Lantern and Rapunzel were all in attendance. Our handlers; Doug, Jason and Matthew; were also there to assist the Guardians and make smiles all around. The event was a full day of family fun with bounce-houses, soccer scrimmages, soccer drills with neat prizes and snow cones. All of the Guardians took part in the soccer-themed fun, especially Spidey! The Guardians were reunited with their animal friend in Rommy, as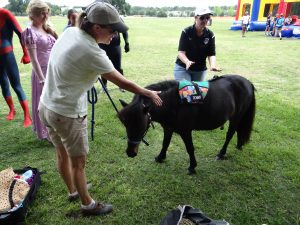 well. Rommy is a therapy horse who was at the event for the kids to meet, pet, and dress up. The adult and student volunteers at TOPS did a great job keeping everyone cool with ice cold drinks and even a Kona Ice Truck!
The Guardians made some friends and tried to keep up with these amazing kids' soccer skills! Overall it was an amazing day of family fun and the Guardians got a kick out of being there to support such a great cause!