When we received the request to attend our first Buddy Break, we jumped at the chance! We have a long history of being involved with Nathaniel's Hope and love what their Buddy Break program does for children and families.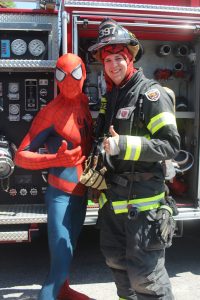 In case you're unaware, Buddy Break is a special place for very special people that they call VIPs. For families with special needs, their trained, certified, and background checked volunteers will care for your special needs child (VIP) and sibling for 3 hours on the third Saturday of each month. Each Buddy Break also has Nurses on duty for any issues that may arise from any medical condition. The Nurse also takes care of administering any medication necessary during the Buddy Break.
At our first event with Eustis Buddy Break, we were able to bring a great group of characters. Spiderman, Green Arrow, Red Arrow, Fawn and Periwinkle were joined by local fire firefighters and policemen to spend time with some amazing children. We explored and learned about fire fighting and the fire engine that was brought.
Our t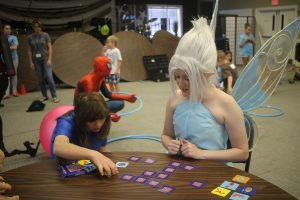 eam enjoyed a bunch of other great indoor activities, too. Everything was available from coloring books to memory card games, arts and crafts to hula hoops. A young girl educated our two fairies on what dragons were…since they do not exist back in Pixie Hollow. Spiderman had a blast playing dress up where the kids covered him in hats, ties, and wigs. Green Arrow and Red Arrow made art pieces to take home with them out of the provided foam lettering, glue, construction paper, and imagination.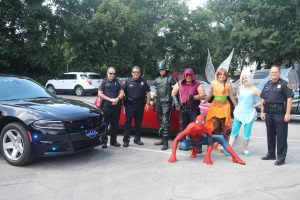 Everyone had a blast together on this day, spending time just being together, learning, and laughing. The VIPs played games, colored, and talked at length with their favorite characters. For this very day, crime halted while heroes spent their time doing things that truly matter…making memories with children.