Stroll n Roll 2016
Every fall, Center for Independent Living supporters and volunteers take critical steps to raise awareness for disability rights and inclusion in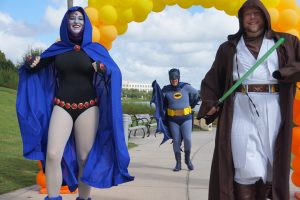 Central Florida. This year, we were invited to join in walking for independence on September 17, 2016 at Harbor Park in Lake Baldwin.
Each step creates a new opportunity for individuals and families living with disabilities. Each step brings CIL closer to achieving its mission and continuing the life-changing work to make Central Florida a community where people of ALL abilities can live independently.
Benefiting
Disability inclusion is a Civil Right. The Center for Independent Living works to achieve fully inclusive and accessible communities for everyone to contribute meaningfully. Their philosophy is based on peer role models: people with disabilities assisting people with disabilities on pathways toward independence. In Central Florida, CIL empowers thousands of lives every year – for 40 years.
Organization Background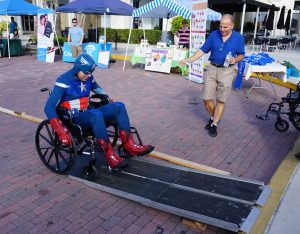 Since 1976, Center for Independent Living has envisioned the opportunities for people with disabilities to create ways to live independently and inclusively in their community.
Their Mission: CIL, in partnership with the community, promotes inclusion of people with disabilities by eliminating architectural, communication and attitudinal barriers. CIL provides education, resources and training to enhance self-determination through informed choice.
Our Experience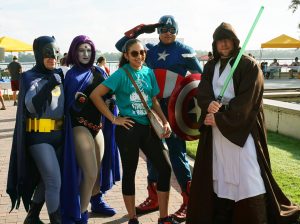 Our Guardians really enjoyed their day in the sun at Baldwin Park. Captain American and our Jedi experienced being a two-wheeler and attempted to get themselves up the ramps. Raven had a blast playing with the kiddos while balancing on ledges, and all of the Guardians, including Batman, had a foot race of their own.
The Wrap Up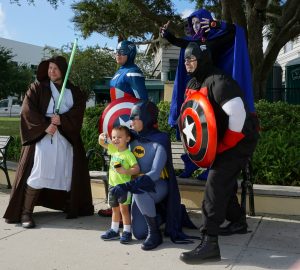 Spending the day with the children at the Stroll and Roll event was a great one for our Guardians of Justice. Batman, Captain America, U.S. Agent, Raven, and Jedi made friends young and old while posing for photos, making smiles, and giving hugs. We're looking forward to enjoying this event on an annual basis.