Early in the morning on Saturday, September 24, 2016 Guardians of Justice members were given the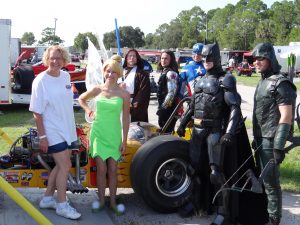 opportunity to attend their very first event in coordination with local organization Drag Race for a Cure (DRC). The sun was blazing as everyone lined up to enter this awesome event! Horsepower was in great supply as Captain America, the Winter Soldier, Batman, Tinkerbell, Green Arrow and a Jedi Knight emerged to greet the gathering participants and spectators alike.  
Normally a night-time crusader, the hot sun did little to dissuade Batman from greeting his eager  (and not so-eager) little fans! Captain America kept the Winter Soldier in check as they continued to sort out their complex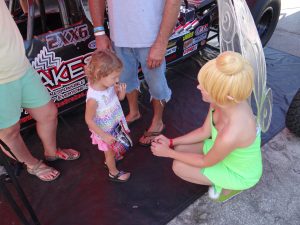 past. With her glittering wings and equally bright enthusiasm, Tink looked like she would be climbing in a race car at any moment to pilot it to victory! Green Arrow and a Jedi Knight also joined the group, greeting fans and keeping the area safe with their keen senses. Everyone was smiles as the Guardians made the rounds – happiness showed on the faces of kids, adults and even their furry companions!
The event was held to raise money for the Cystic Fibrosis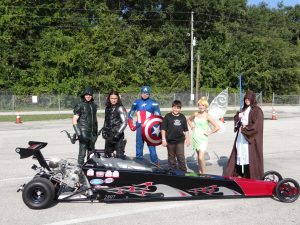 Foundation of Orlando and Autism Society of Greater Orlando, spreading awareness to help find a cure. Cystic fibrosis is a genetic lung disease that affects 30,000 people in the United States. Last year the event raised nearly $10,000 in a one-day event with over 350 cars entering the race. This year they expected well over 450 since Autism was added as the second beneficiary to this charity event.
Dave Pike, who coordinated this fast-paced showdown, has a special place in his heart for the cause as his own 20-year-old daughter, Paige Pike, suffers from Cystic Fibrosis, a life threatening and debilitating disease. Similarly Ryan Snell on the DRC team's fiance also has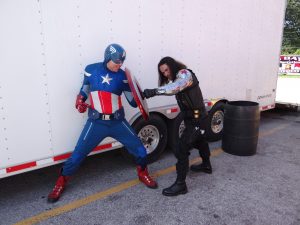 Cystic Fibrosis. Their perspective injected energy into the action-packed event. Last year's race was dedicated to Kayla James, a fellow racer who lost her fight with Cystic Fibrosis a few short years ago at the age of only 17. DRC named the Junior dragsters after her to keep her memory alive and to remind everyone what the race is really all about.
As the race participants burned rubber on the track, the Guardians watched in fascination. Batman even got some great ideas for upgrading his Batmobile! DRC was an exciting time for a great cause, and the Guardians of Justice can't wait to race back for more fun soon.