On an early September evening, Guardians of Justice gathered to join force-friendly festivities at Cranes Roost Park in Altamonte Springs. Our organization was requested to appear at the Sunset Premiere of Star Wars: The Force Awakens.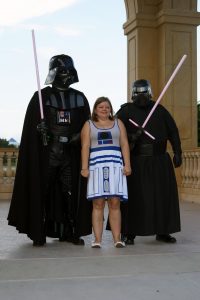 As the representation of Star Wars characters has been growing within our group, we jumped at the chance to finally represent our organization at Altamonte's favorite park and home of Red Hot and Boom.
Prior to the start of the movie while families were scoping out their spots in the grass, our members gathered and posed for photos before showtime. A local apartment complex passed out child-sized lightsabers that were a huge hit. We were also joined by a Disney representative that was promoting Captain America: Civil War right across from our booth, and another of our booth neighbors was an individual promoting their business with Mary Kay. Food vendors filled the air with the delicious smell of hot dogs as the night air started to creep in and cool temperatures down.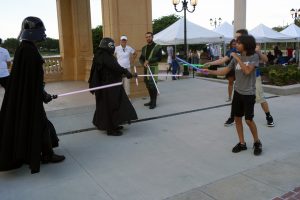 Our team of handlers manned the booth, giving information out to interested parties wondering what GOJ was all about. Handlers also looked after our costumed characters and ensured that they had their adequate breaks and captured the special moments by camera. Darth Vader was accompanied by his grandson, Kylo Ren, and an Imperial Officer from the Dark Side. Luckily the Light Side of the Force was also represented by a Jedi and the starfighter pilot, Poe Dameron.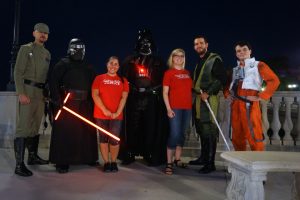 One of our most favorite memories from the showing of being a part of this event came later in the evening as the movie had already began playing. A little girl that spoke Spanish was a bit afraid of Darth Vader and Kylo Ren. Kylo happened to be bilingual and told her that everything was okay. Not long after she was happily taking photos with the Dark Side, all smiles. That's what it's really all about to us–connecting with the children and empowering them.
While this specific event wasn't centered around a specific charitable cause, it was an excellent opportunity to get out in the community, spread the word, and do what we do best–make others smile. We're looking forward to the next time we'll be heading out to Cranes Roost Park.