Members of the Guardians of Justice crew were back at it again this weekend, making an appearance at BASE Camp's Christmas in July event this past Friday, July 24th at Rosen Shingle Creek. This was BASE Camp's 18th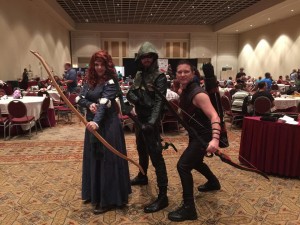 annual event of this kind where children battling cancer and their families can all get together to celebrate a wonderful evening of music, dancing, and prizes along with tons of other yummy food and snacks. Rogue, one of our own, even boasted that it was quite possibly the BEST mac & cheese she's ever had. Santa also made the trip down from the North Pole sporting a Floridian-inspired vacation ensemble and was available for photo-ops with the little ones.
Guardians were represented this special holiday evening by the attendance of Princess Merida from Brave, Superman, Hawkeye & Black Widow, The Green Lantern, Cyclops, Catwoman and Rogue as mentioned above. Nick Fury surprised us all at one point in the night by making some room on the dance floor and breaking it down like no other! He definitely dominated any of our cupid shuffle or wobbles – no contest. One of the newest members of our league also made her first debut appearance as a sparkly and bubbly Tinkerbell with an albatross wingspan.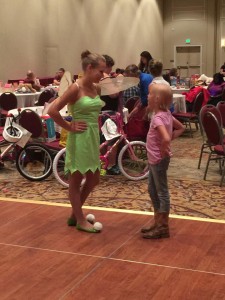 "Seeing children just immediately have the biggest grin on their faces because one of their favorite characters just walked in the room was incredible," says Georgieanne (Tink) sharing her first time experience with us. "There were so many brave and eclectic little souls in the room that I had the absolute pleasure of meeting. Madilyn, one little girl in particular was rocking these precious cowgirl boots I just had to compliment her on! She was cautious and reserved at first but 20 minutes later, she's my best friend and we're talking about ponies, braids, and how much fun she was going to have at the BASE Camp sleepover that night!"
Our organization is ecstatic to play a part in this very special event for the second year in a row! This is a nice break for the children to leave their worries behind for one night and just focus on having a great time with other kids going through the same struggles as them. It was truly a touching experience.
Enjoy these awesome videos from the event of us all getting down!