On a foggy Saturday morning, our Guardians headed out to UCF's Memory Mall to join in on the festivities of BASE Camp's "Be A Hero 5K".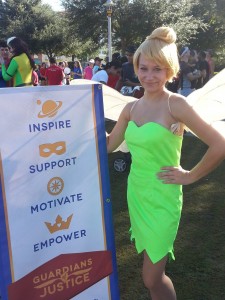 BASE Camp Children's Cancer Foundation provides year-round support for children and families who are facing the challenge of living with cancer and other life-threatening hematological illnesses. All proceeds from the race went directly to BASE Camp Children's Cancer Foundation. Childhood Cancer effects an estimated 13,400 children each year. Even when the Cancer is overcome the latent effects of treatment have an impact on survivors for a lifetime. We may not yet have a cure for the disease but BASE Camp's programs provide treatment for the soul.
The Be A Hero 5k was a blast. Our Guardians in attendance included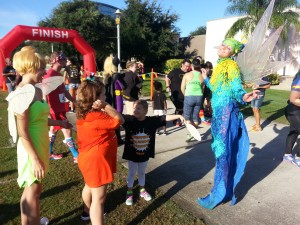 Tinkerbell, Tooth, Batman, Batgirl, Rogue, Wolverine, Cyclops, Superman, and Zorro! We had a huge turn out and it was great for us to be there cheering everyone on and dancing with the kids. Tinkerbell gained a shadow that day from an adorable little girl who remembered her from a previous event, held her hand and followed her around all day -It was such a sweet sight. Guardians assisted in cheering on the runners as well as greeting them at the finish line with bottles of water. We will never forget Wolverine handing out water with his claws. 🙂
Wolverine and Rogue both took pies to the face in support of Whipping Childhood Cancer. Their mission is to help increase survival rates, clinical trials for childhood cancer, helping advance a new category of cancer treatment beyond chemotherapy, radiation and targeted drugs, and ultimately a CURE. We are more than happy to join in on their cause and to spread the word of this great 501c(3) organization.
After the races had been concluded, we helped hand out trophies to all of the top ranked racers. Each racer that ran, did so with a microchipped piece of plastic on their shoes that timed their trip. There were trophies for all age categories and for those who placed best over-all. There was also a prize for the best super-hero racing outfit (that went to a tough female Gladiator). Each child participant was awarded a gold medal on a ribbon.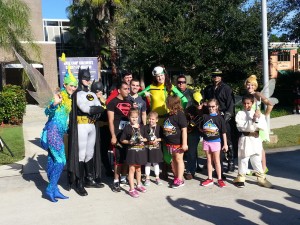 All said it was a wonderful, fun filled day that we, as Guardians, were so thankful to be a part of! We also want to send a special shout out to our member, Tracy Adams, who acted as handler that day and helped take photos, direct us where to stand and make sure our side of the cheering squad was extra loud! As with all events that we have the pleasure of doing with BASE Camp, the heart of the event was activity. Dancing, laughing, and smiling with the children and adults makes each event simply amazing. We cannot wait for the next one!