On Saturday, October 24th members of Guardians of Justice joined scores of volunteers and participants (and a few other costumed characters!) for the Down Syndrome Association of Central Florida's annual walk Step Up for Down Syndrome Orlando.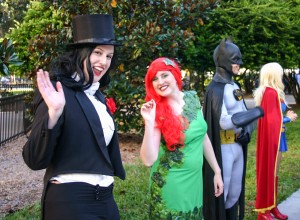 According to the DSACF Orlando is host to one of the largest walks in the nation and Saturday's Step-Up for Down Syndrome event was no exception. Even before the day of the walk their top five teams had already raised over $30,000.00!
The Step Up for Down Syndrome celebrates October as National Down Syndrome Awareness Month, and provides a public platform for advocacy. The one mile walk around Lake Eola in Downtown Orlando includes music, games, and community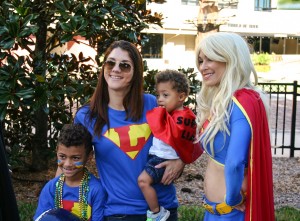 resources. The goal is to promote acceptance and inclusion; to raise funds necessary to develop innovative and effective programs locally; and to enable us to positively influence disability policy.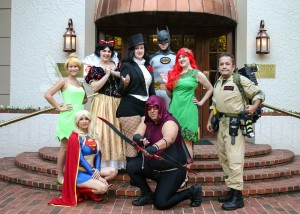 Batman, Red Arrow, Poison Ivy, Zatanna, Supergirl and Snow White cheered participants on while our very own Ghostbuster team member kept everyone safe from spooks. Tinkerbell was on hand to use a little pixie dust to ensure the walk went off without a hitch. Guardians would also like to extend a thank you to our very adept Handlers, Mike and Teresa, for being our official smile makers at this event and doing everything from taking photos for the crowd to grabbing bottled waters. We had the amazing opportunity to visit a lot of the amazingly, well-decorated team tents. Getting the opportunity to high five, take photos, and give hugs with all the great people out at the event was fantastic and one of our favorite experiences of the year.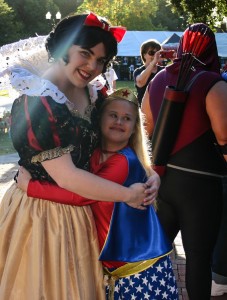 We would also like to thank Jamie from local law-firm Lowndes, Drosdick, Doster, Kantor & Reed for providing our characters a secure, air conditioned area to get ready (and for providing parking for the volunteer staff of DSACF for this event).
Guardians of Justice cannot wait for the next walk, and we hope to see you all out with us next year!