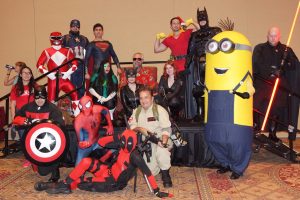 At least twice a year Guardians of Justice has the pleasure of celebrating the lives of children and their families fighting cancer with BASE Camp Children's Cancer Foundation. In July and December, Christmas parties are held and our characters are always so happy to join in on the fun and festivities.
For this Christmas in July; Deadpool, Spiderman, US Agent, Batman, Catwoman, Superman, Green Lantern, Kevin the Minion, Red Power Ranger, Ghost buster, Captain America, a Sith Lord, Black Widow, and Gaston brought smiles along side Summer Santa. Not to mention, our super helpful group of handlers – including Guardian in Training Amelia 🙂
BASE Camp provides a year-round base of support for children and families who are facing the challenge of living with cancer and other life-threatening hematological illnesses. We serve not only the children who are patients, but their brothers and sisters too.
Save