There was an awakening of the force as an unlikely alliance formed among characters from the dark side and the light as they visited the children at BrightStart Pediatrics Wednesday, May the 4th.  Many of the children wore their Star Wars best –which showed the force was strong with these young ones! The visiting Guardians of Justice roamed room-to-room, meeting and playing with the children under BrightStart's care.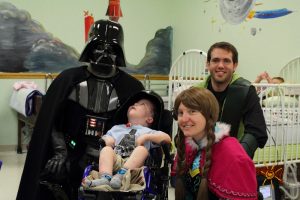 Darth Vader showed his young apprentices how to use the force –with a Jedi on hand to keep a close eye on things in case the force use turned too far to the dark side. One force user even brought his own sith armor, ready to learn! Anna brought a royal grace to the gathering and comforted those little ones who felt the dark side was too scary.
At one point the light side decided to resort to violence to rid the galaxy of Vader, but he acquiesced and agreed to try harder to make good choices. Rey, the brave leader of the attack, called a truce and declared Vader a "good guy" that could be trusted for now. The rebels reluctantly agreed and instead settled for battering a small-sized effigy of the dark lord in a peaceful protest.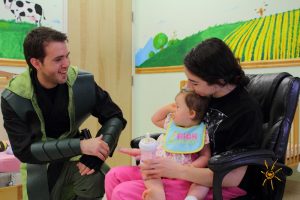 We were also able, heroes and villains alike, to see BrightStart's care in action as their capable nurses and aides cared for the children under their watch. They administered medicine, changed dirty nappies, started breathing machines and checked monitors.
BrightStart is PPEC Center (Prescribed Pediatric Extended Care) that offers Physical, Speech and Occupational therapies on site as well as qualified care by multi-lingual pediatric nurses and aides. PPEC Centers have been active in the state of Florida since 1995, and to the outside observer look much like a day care.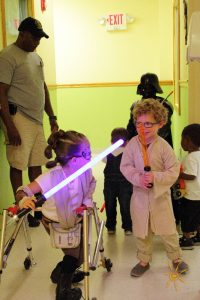 In many ways they are, the children have lessons and socialize with each other but unlike standard day care facilities BrightStart has been set up to care for children with certain medical diagnosis, or "medically complex" children, from infancy to five years (and in a few special cases, beyond). The staff become acquainted with each child's temperament and schedules; and the facility offers more reliable care than is available in-home. They also work closely with families to assist in transportation and funding –giving a sense of normalcy to lives otherwise interrupted. Parents are given peace of mind, knowing that the trained staff is there to watch over their precious little ones every step of the way.
Many of the children at BrightStart have feeding tubes or medical ports, so care was taken by every character when interacting with or holding the children. Anna had her lap full of little ones! By the end of the visit there were hugs and high-fives all around, even with Vader himself!
We always look forward to our visits with BrightStart Pediatrics and can't wait to see them all again soon!