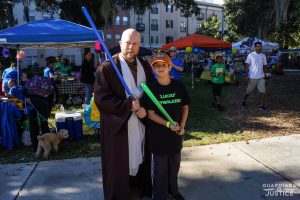 We were absolutely thrilled to return to Lake Eola this year for our second opportunity to join Down Syndrome Association of Central Florida at their annual Step Up for Down Syndrome Buddy Walk hosted at Lake Eola. October 22nd was one of the first beautiful fall mornings that us Floridians are grateful for after a long hot summer, and as the Guardians crew assembled on either side of the starting line, we were anxious to get the walk started and make some memories with some wonderful children.
Members from the far stretches of the multiverse were in attendance such as Batman, Green Arrow, Wonder Woman, and Super Woman from DC Comics. X-Men's Cyclops and Bucky the Winter Soldier were repping Marvel, while Tinker Bell and a Jedi flew in from Pixie Hollow and a galaxy far far away.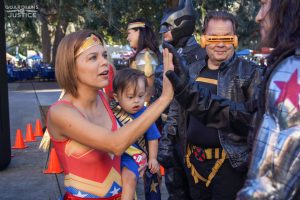 The ribbon cutting ceremony and countdown from 10 erupted with confetti canons, filling the crowd with anticipation and excitement as we waved, cheered them on, and wished good luck to the teams on their walk. As a young boy passed who was carrying a portion of the blue ribbon that had just been cut, he bashfully gifted Tinker Bell with it as a souvenir and gave her a big hug.
Once the sea of walking buddies had departed, Guardians of Justice took a walk around the event's activity area which was filled with exhibitor booths, family pop-up tents, and bounce houses. Down Syndrome Association of Central Florida serves families in our area growing from a few families to over 1,200 individuals within a 10 county range with an estimated 6,000 attendees at this major event. Needless to say, we met so so many amazing children and young adults touched by Down Syndrome and made many new friends.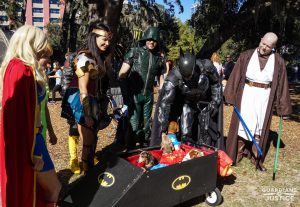 Bucky stole the hearts of many with his long flowing locks and big muscles, although he did wish he packed shorts by the time it warmed up in the afternoon. That arm is quite the solar panel sometimes! Batman both terrified and mesmerized the crowd with his big ol' batty wingspan and found many fans paying homage to his bat symbol with their themed get-ups… Even a few wonder-puppies!
Wonder Woman, Supergirl, and Tinker Bell were a hit with the little ones, trading stories and gossip from their adventures. Some special little ladies even had the opportunity to pose and wield WW's Sword of Athena. In particular, the GoJ ladies each spent some one-on-one time with a very precious little girl named Punky. Her family watched a few feet away as Punky and her sister interacted with us with joy in their expressions.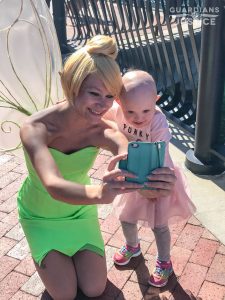 The Jedi and Green Arrow kept a watchful eye on the crowd, ensuring that everyone stayed together and were accounted for. They also lent out there "weapons" of justice to those that wanted to play with them. Cyclops clearly could not allow anyone to try out his eyewear due to safety precautions.
We had such a phenomenal time at this event and enjoyed making connections with everyone that we encountered that day. The event flew by before we even noticed! Thank you to Down Syndrome Association of Central Florida and their volunteers for treating us with exceptional care and pulling off another very successful event for their cause. Until the next one!