On Saturday, December 3rd, the Guardians of Justice took part in the 6th Annual Outreach autism Services Network (OaSN) Sensory Friendly Christmas Party in Ocala, FL. OASN is a nonprofit agency founded May 12, 2011 offering free autism services to the community. OASN (formerly Ocala Autism Support Network), was founded to facilitate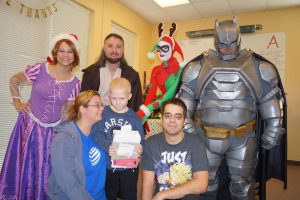 the BEST outcomes™ for individuals with autism through education seminars, respite care, social skills classes, referrals, support meetings, events and more.
The Christmas party was structured with 3-4 different activity locations for children to participate in which included a Sensory-Safe Santa, meeting our guardians, and an arts & crafts station where they decorated their own ornaments and stockings. At each workshop, they collected stickers of participation and once their passport had been fulfilled, they (or their parents) were granted full access to pick a few items from the ever-magical and mysterious Toy Room of goodies and gifts.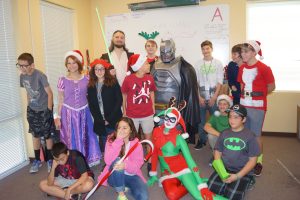 Our characters; Qui-Gon Jinn, Rapunzel, Christmas Harley, and Batman (in his Dawn of Justice Battle Armor) made friends and swapped stories about Santa. Some lucky kids even received instruction in lightsaber training and candy cane martial arts. High-fives, smiles, laughter and hugs were all around.
Thank you again to Outreach autism Services Network for hosting and collaborating logistics for such a great event. It was truly an inspiration and absolutely our pleasure to work alongside such fascinating and giving people. 'Tis the season for some, but these folk work hard all year round. Guardians of Justice is so excited to have made a partner through this great group of people.
Save