On Tuesday, November 17th, six Guardians ventured to Florida Hospital's Walt Disney Pavilion to bring smiles and happy distractions. Characters in attendance included Rogue, Merida, Shazam, Green Lantern, Batman, and Black Widow.
If you have never visited the Walt Disney Pavilion at Florida Hospital here in Orlando…here's a little information on the facility. It truly is amazing.
At Florida Hospital for Children is a state-of-the-art, brand-new facility that was created specifically with children in mind. Designed with input from patients, families and clinicians, our hospital caters to our patients' needs and desires at every angle. From the Disney®-themed lobby to the intricately themed floors and patient rooms, you will discover a wonderland of health and healing that serves as a model for healthcare facilities around the world.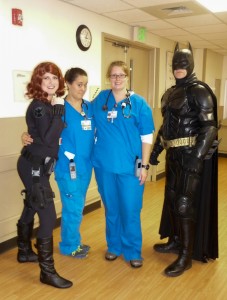 Guardians were split into three groups of two and were each assigned a Child Life Specialist as their guide. Child Life team members work closely with patients and their families to provide the most beneficial services. Support is offered in three main areas: emotional, educational and developmental. As our guides, we were taken to multiple floors to visit different areas of treatment. Batman and Black Widow had the opportunity to engage with patients within the Bone Marrow Transplant, Pediatric Intensive Care Unit, and the Cardiac wards. In order to enter the BMT area, the two characters had to cover their boots to ensure they were germ free before entering the sterile space.
From 2:00 to 4:00 our Guardians were escorted from room to room until each awake Patient had a visit by as many characters as possible. After we all came back together, we knew that we would have to take the opportunity to go to the lobby to check out the awesome Disney themed space that kids had to play within. With statues of iconic characters such as Simba, Flounder, and Baloo…the space was completely outstanding. Merida found herself a throne, Shazam played Simon with gemstones, Rogue got friendly with Ariel's favorite pals, Black Widow tested out a mysterious door, Batman felt at home in a cave, and Green Lantern made a new friend in Baloo. We had a blast exploring the space and getting to play with everything in it. There was even an area that one could argue was meant to resemble Ariel's Grotto that included a touch screen where you could pop bubbles and collect stars.
Walt Disney Pavilion's Disney-Themed Lobby
With this, personally, being first time visiting a children's hospital as a costumed character, I have to admit that it was a little unnerving. As a character, you have to remember that you're there to give them a break from reality. You have to avoid questions that involve how the child is feeling or how their day has been or if you they're enjoying being there, which are very common questions that we ask while at community events. So, they're a hard habit to break. However, it works very well to know your character very well. For instance, Batman is a veteran of hospital visits and always seems to find something to discuss with the kids. Often he asks if all the medical equipment in the room is what they child uses to fight crime…Then will continue on to say that he has the same unit at home and that it's what he uses, too. We always get a patient's name before we enter a room, as well, and that allows him to also play off of the same to ask their super powers, as well. It was a great experience to share my first hospital visit with the Bat.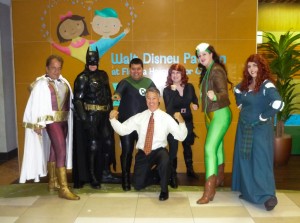 All of our character had full hearts when leaving the Walt Disney Pavilion of Florida Hospital on Tuesday and we look forward to visiting again soon.