Early Halloween morning, the Guardians of Justice met up for Orlando's Making Strides Against Breast Cancer walk in downtown's Lake Eola park. While Halloween is commonly associated with black and orange, ours started with all the colors of pink possible.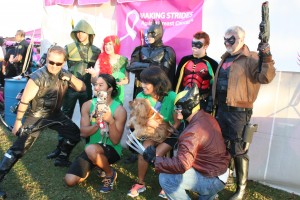 Making Strides Against Breast Cancer is a yearly event celebrating survivors and warriors of breast cancer, as well as a fundraiser for breast cancer research and awareness. Orlando was celebrating their 15th annual event and it was greeted with over 60,000 participants. None of us had ever seen so many people in one location in downtown Orlando before.
The American Cancer Society is the leader in helping to finish the fight against breast cancer.
They're investing more in groundbreaking breast cancer research to better understand, prevent, find, and treat the disease.
They're in every community providing free, comprehensive information and support to people touched by breast cancer, when and where they need it.
They're helping people take steps to reduce their breast cancer risk or find it early when it is most treatable.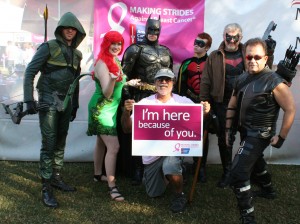 Guardians: Batman, Robin, Poison Ivy, Red Hood, Green Arrow, Wolverine, and Hawkeye were among the masses, posing for pictures with those celebrating their efforts. We were joined by many in pink wigs, wings, and boas. Downtown Orlando was in full-on celebration mode.
We're happy to report that Orlando's Making Strides Against Breast Cancer event ended up being the biggest in America. That's huge!
We were thrilled to be a part of the event for the first time this year and looking forward to joining in again next year!