This holiday season, the Guardians of Justice attended one of our merriest events yet! On Friday, December 18th, our Smile­ Makers came together for BASE Camp Children's Cancer Foundation's annual Christmas Party.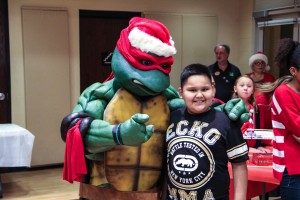 The event was full of holiday spirit with children and families alike celebrating Christmas and the end of another great year.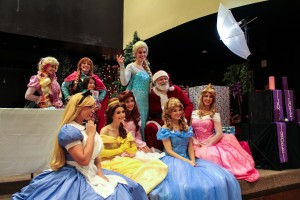 Guardians of Justice teamed up with our friends from Once Upon a Party to bring around 28 characters to join us for this festive event! Princesses including Cinderella, Ariel, Belle, Sleeping Beauty, and Rapunzel were there posing for photos and dancing the night away with the kids. A great DJ made sure that they had flurries full of holiday music. Alice took some time away from Wonderland to join us, as well! Princess Anna and Queen Elsa made the trek from Arendelle along with Kristoff. Maybe that's the explanation for the chill that was in the air that night, but don't worry­ things inside the party were warm and cozy.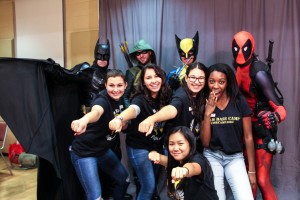 Superheroes of all shapes and sizes helped everyone learn how to be brave and bold-and to make sure no Grinch's ran off with the Christmas cookies! Batman, the Green Arrow, Deadpool, and Wolverine suited up that night. Hiro, Tadashi, Honey Lemon, GoGo Tomago, Wasabi, and Fred­ some of San Fransokyo's finest from Big Hero 6, stopped by to make sure all tech was in order and keep the good times rolling! One of the newest members of the Dark Side, Kylo Ren, touched down at the event.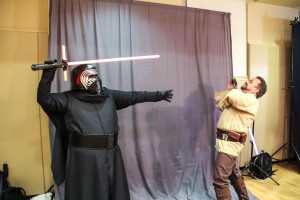 Thankfully, we had a Jedi Knight there to balance the Force. Raphael, one of the Teenage Mutant Ninja Turtles also made it out to celebrate the holiday. He was glad to see that pizza was one of the offerings for the guests' holiday dinner. Everyone had plates piled high and loved all the great food.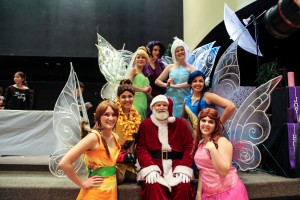 Tinkerbell has been a Guardian for a while now, but this event marked the first time that her friends from Pixie Hollow flew to the Mainland to join her! Silvermist, Iridessa, Fawn, Rosetta, Vidia, and Tinkerbell's sister, Periwinkle, played and learned all about being human from large and small guests alike. Our fantastic handlers, Mike and Carla, helped the fairies get used to being so tall and made sure everyone was having a great time all around. Carla was making smiles for others on her very own birthday! Happy Birthday, Carla and thanks for being a great representative of what the Guardians are all about!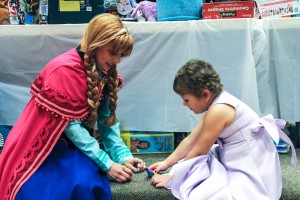 Along with dancing and food, the kids at the event were given medals to celebrate everything they've achieved. They also were given many presents by the big man himself, Santa Claus! He was there taking photos and hearing everyone's last minute Christmas wishes. Bikes, dolls, sleeping bags, and many other toys were given away to these very deserving children. Volunteers from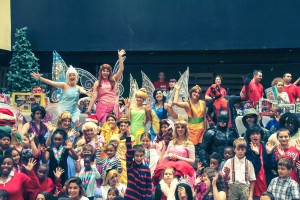 many different companies and organizations helped distribute the gifts and kept the night running smoothly.
The Guardians of Justice would like to thank BASE Camp for having us back for yet another event. We had a fantastic time dancing, playing, and talking with all of the guests and hope they had as much fun as we did! Christmas may have already come and gone, but the magical feeling from this event continues to last. The BASE Camp Christmas Party was the perfect, festive end to 2015!