Guardians of Justice celebrated Halloween by volunteering at the VillageWalk community "Villains & Heroes" Halloween Parade! Guardians of Justice sent forth Maleficent, Cinderella, and Raven to help the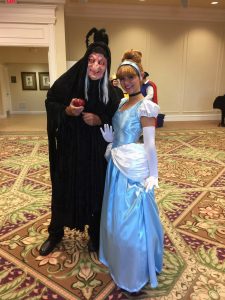 residents enjoy the most costumed holiday on the calendar. Instead of trick-or-treating, residents, children, and even some dogs (festooned in their own splendid canine costumes) converged upon the clubhouse for a grand Disney-themed party! Additionally, volunteers from the community were proudly bedecked in costumes designed and sewn by the Guardians' own Elizabeth Hall.
The party roared with about 100 children scurrying about the scene visiting Disney heroes and villains.