Everyone was a hero at the Orlando NF Walk. The event, designated for the awareness and treatment of neurofibromatosis, was heavily themed for superheroes down to the last detail. Neurofibromatosis is a condition that causes tumors to form on the nerves, brain, and spinal cord. There is currently no cure, but there is a range of treatments that can be scary and invasive for young children. These NF Heroes are very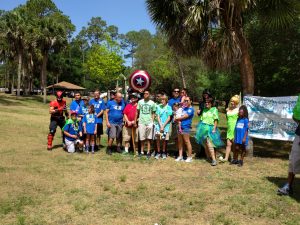 brave.
The Orlando NF Walk proved heroes come in all ages, sizes, and walks of life. Children in capes eagerly greeted the Guardians of Justice with smiles and requests for photos. Captain America, Wolverine, the Green Arrow, and Tinkerbell were in attendance. The children had various stations set up for the Guardians to mingle with; they made toy dragons, jigsaw puzzles, had face painting, and held a raffle.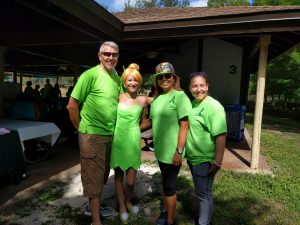 Once the families had arrived and were registered, the NF Heroes set off for their walk with the Guardians in tow and Captain America delivering high fives. After a group photo and walk back to the main pavilion, the NF Heroes played a variety of fun and engaging games to compete for prizes.
First was the foot race, joined by Wolverine and Captain America. Cap carried the rear and made sure there was no soldier left behind. Following the race was a hula hooping competition joined by Tinkerbell. The Guardians teamed up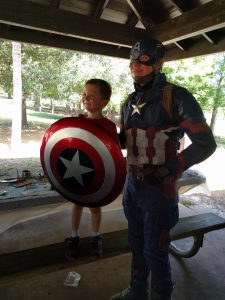 with the NF Heroes and created many smiles and happy memories for all.
All proceeds from the event were donations to the Orlando NF chapter for raising awareness about neurofibromatosis and working together to find a cure. Though there may not currently be one, the work and perseverance of the NF Heroes send the very clear message that nothing is impossible, and the Guardians of Justice were very honored to play a part in teaming up to make that happen.