For the third year in a row the quaint, down-home town of Bartow has thrown an amazingly nerdy celebration of epic proportions.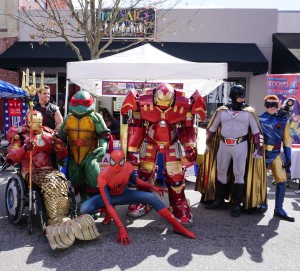 SyFy Bartow is an outdoor only science-fiction convention and car show that encompasses three full city blocks and is chock full of fun for all age groups. Featuring a costume contest, karaoke, outdoor movie, DJ, and more the event is hosted by Sean Serdynski –a man who genuinely loves both sci-fi and the town in which he lives.
Guardians of Justice was ecstatic to join an event that has grown exponentially over the past three years. Our booth was outside the Mosaic Community Café next to the USS Haven and a local comic book writer displaying art from his comics next to Happy Hour with Johnny & Duce.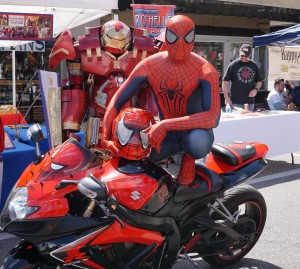 Our team joined other costumers of all genres and ages, including the 501st. We had Hulkbuster, Spiderman, Raphael, Flash, Space Ghost, Jace and Blip! Throughout the day hundreds of people stopped by the booth to say hello, learn about what we do and get their photo taken with our characters. Bike, Ride, or Die even brought their Spiderman-themed motorcycle by so our very own Spidey could pose atop of it.
Throughout the day we sold chance-drawing tickets for some awesome give-away items and accepted donations for filing our 501(c)(3) paperwork. We had crayons and coloring pages for children to sit and enjoy, and even a few adults stopped by to take a break and color!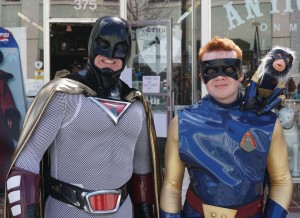 In the afternoon our members, Thomas, Miguel, TJ, and Tracy hosted a panel on "Cosplay with a Purpose". At which event attendees could hear about the many fantastic aspects of what we have had the opportunity to do as the Guardians of Justice. We discussed costume creation, staying within character, and the heaviness of hospital and special visits.
Near the end of the day, Tracy also took the time to be interviewed by the Happy Hour with Johnny & Duce. The three hosts of the podcast went on to mention that our organization is doing the "Lord's work." It was overwhelming and ecstatic for her to talk to people who had been following the organization's hard work.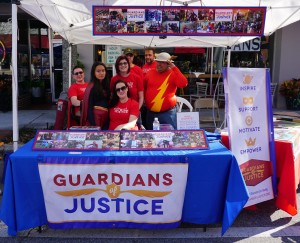 Syfy Bartow was an extremely successful event for the Guardians of Justice! We finished the day with a total of $219.00 earned, meeting and surpassing our fundraising goal. We now have the money necessary to follow through with updating our Articles of Incorporation as well as for filing for our 501(c)(3) application to earn tax-exempt status. Now, it's time for the hard part –filling out all that paperwork!