This past weekend, Guardians of Justice members teamed up for a very special mission to celebrate the life of a 6 year old boy, named Armani Cintron. This little man was diagnosed with a rare form of brain cancer (Anaplastic AstroCytoma) just over a year ago and is currently battling in Stage 3 after he has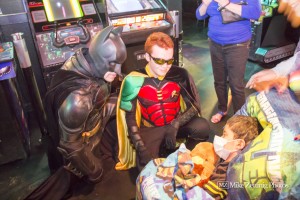 went through radiation and chemotherapy. Early last month, January 2016, his family received news from their specialists that the tumor had unfortunately progressed. Without question, this courageous boy – who is aptly known as an active and lively child – was in fierce need of a positive pick-me-up. Vanessa Santiago, Armani's aunt (and Guardians' veteran cosplay member), took initiative to raise Armani's spirits in one of the most inspirational ways she knew possible – Heroes just like him. She called upon her fellow Guardians of Justice to assemble some of his favorite characters to spend time, say hello, and encourage Armani during his battle against this wicked diagnosis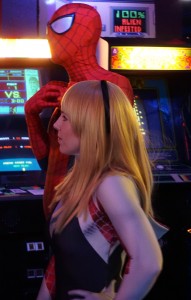 .
While most of our Guardians of Justice events we take on are more in partner with either celebrating or raising awareness of the cause in particular, this one was clearly on a more intimate level for all parties involved. Vanessa approached us when Armani's family was given a diagnosis of 6-8 weeks for this brave little boy to live. Before cancer took a toll on this young heart – Armani was the ultimate fan of Batman, Teenage Mutant Ninja Turtles, and Iron Man. As soon as word got out in our GOJ community concerning Armani, many of these characters were just standing by with eagerness to help out. Batman called up Robin to join him, Raphael represented the TMNT crew, and Hulkbuster on behalf of Iron Man. Even from the Angel Grove community, the word of Armani spread and Billy the blue Power Ranger expressively donated his time for the cause as well. Others notably in attendance were the red-headed, classy-sassy heroines – Princess Merida and Black Widow, Spider-verse superstars – Spiderman and Spider Gwen, and the awakened force of the Dark Side, Kylo Ren.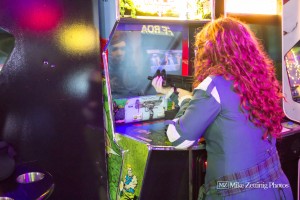 Player 1 Video Game Bar located on International Drive graciously donated their space for us all to get together with Armani's family to jam on some video games, and as casual as possible under circumstances – hang out with Armani and some of his favorite heroes. To see Batman and Robin casually sip root beer out of longnecks "at the bar" was truly a sight to behold. Fear not, Gotham citizens! It was non-alcoholic, of course. We also had a chance to witness Merida set down her bow and pick up a machine gun instead in an old school arcade round of Operation Wolf.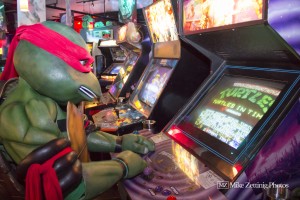 Raphael gave a review of TMNT: Turtles in Time where he mentioned that the graphics were a little less radical than he remembered, but the review of the Domino's next door to Player 1 was much more tubular than he could have forseen… and he's consumed a lot of pizza!
Although at times, it was difficult to spend quality 1-on-1 time with Armani due to his weakened state, his family members assured us that he knew and understood we were there, cheering him on! We hope to bring even a moment of happiness for any child in the state, but with Armani being so close to our Guardians' family, this particular one stung just a little bit more that afternoon.
To learn more about Armani and keep updated on his condition, visit this Facebook page: Prayers for Armani. Our thoughts are with you, little man! We love you!