Sunday, March 20th promised a unique opportunity for members of the Guardians of Justice to partake in some crafty fun. WeSpeak for Them and Sydney the Therapy dog hosted an open-house style party and invited our members to join!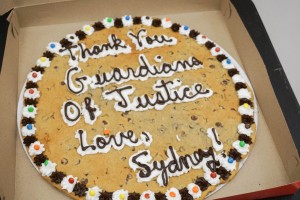 The festivities took place at the "Read to Sydney" store-front located inside of the West Oaks Mall. Since we were directly across from the Mall's Easter Bunny he hopped on over throughout the afternoon to participate.
Sydney brought her four-legged friend Toby along to visit with the children. They roamed the store-front ensuring everyone was greeted and Toby handed out a few doggy-kisses. Sydney is a registered therapy dog who helps children read one "tail" at a time.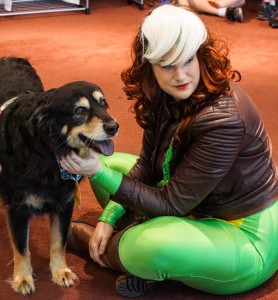 Because dogs are not judgmental the children she visits feel more comfortable reading aloud. They might have problems pronouncing words or just read at a slower pace. Sydney will patiently sit or lay next to them…content to listen as only a dog can.
Sydney's handler Thom Battisto was on hand to answer questions about his humane education program and show off their book "Sydney Finds a Job." In the book Thom and his volunteers explore humorous situations in which Sydney attempts to find a job until, ultimately, she finds her perfect fit –helping children learn to read.
While adults and children read from the store's library (all available for purchase!) others sat at the crafting table to make super hero masks. Kylo Ren was on hand to assist –although his masks ended up being colored only black and red.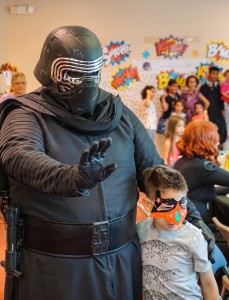 Derek especially loved having Kylo around. He showed off his prized possession (a scale tie fighter) and drew an empire themed mural of tie fighters and death stars on the table.
Tinkerbell had many fans at the event, including a few precious little girls who ran from halfway across the mall for a pixie hug.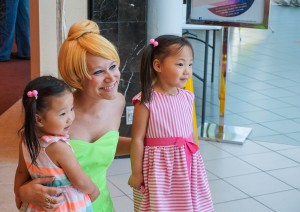 One special little girl that Tink had the pleasure to meet was Katelyn. She brought her own superhero mask with her! The adorable purple mask was decorated with glitter paints and feathers. Tink said they reminded her of the fluffy stuff in Pixie Hollow.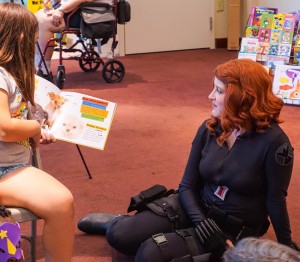 It's a little known secret that deadly assassin Black Widow absolutely loves to color so she happily sat down with the children and colored away at the superhero themed pages on hand.
Later in the day as everyone posed for a group photograph Rogue tried her luck at being a doggie-wrangler, and managed to get a wiggly Toby to sit still for a photo. Sydney preferred to turn wrong-end facing the camera and smile at everyone.
As the party wrapped up everyone agreed. Reading to Sydney is a fun way to spend a Sunday afternoon!