Guardians of Justice join forces with JDRF Orlando Chapter for One Walk marathon raising funds and awareness for Type 1 Diabetes.
On March 5, 2016 Guardians of Justice members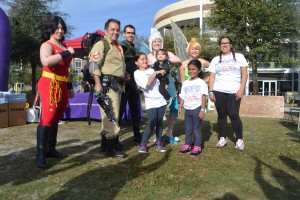 were given the opportunity to attend their very first event in coordination with the local Juvenile Diabetes Research Foundation (JDRF) chapter for a fundraiser, contributing to a marathon hosted at UCF Memory Mall. The weather was absolutely perfect for a few of our pixie friends from Neverland to swoop in for a visit and spark some happy thoughts in the little ones who walked for a cure.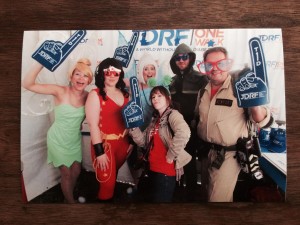 On this beautiful morning to benefit turning Type 1 Diabetes into "Type None"– Along with our two pixie sisters also came Wonder Girl, a Ghostbuster, and Green Arrow. Us heroes posted up around the kids area where there was a coloring station and face painting. Wonder Girl played frisbee with a few of the runners after the race, while Tink and Periwinkle were busting out dance moves and playing kickball with some little girls who wanted to play. We also got a really fun group photo when we all visited the photobooth, too!
The new Ghostbusters trailer had just released mere days before the event so Mark's authentic Ghostbusters getup was a nostalgic hit with the crowd. Green Arrow stepped out of the shadows to join our cause and even had his hood down for a few moments, basking in the great weather as well.
Type 1 Diabetes affects more than 208,000 people under 20 years old in the United States. The differences between both types of this disease would be that Type 1 is juvenile-onset where the pancreas shuts down entirely and no longer produces insulin in order to break down sugars. Type 2 can be developed at any age (however mainly seen in adults) where they become insulin-deficient and simply produce smaller amounts.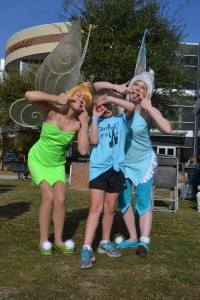 JDRF One Walk's cause was particularly memorable for me to be a part of because my little sister actually has Type 1. She was diagnosed at 6 years old. I watched her grow up with having to acknowledge and understand that she had to "count carbs" for life, wear an insulin pump, and test her blood sugar 8 or so times a day routinely. When I do the math, my sister's tests calculate out to 35,040 times since she's been diagnosed. "Jingles!" That's a lot.
Coming together, Orlando families throughout our area raised $289,847 for the foundation. Guardians of Justice hopes to have another opportunity to cheer JDRF on and celebrate a cure for this disease soon!