The weather on April 23rd simply could not have been better for the 3rd annual Outreach autism Services Network's Best Outcomes Walk. Many gathered at Sholom Park in Ocala, FL to enjoy the walk and camaraderie, to be also greeted with four heroic images.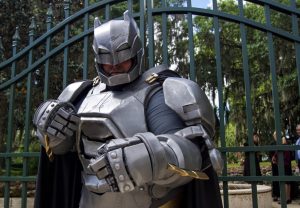 OaSN utilizes this Autism focused walk each year to help raise funds for their organization and to have a little extra fun. Outreach Autism Services Network Inc. ™, (formerly Ocala Autism Support Network), OASN, is a nonprofit agency founded May 12, 2011 offering free autism services to the community. OASN was founded to facilitate the BEST outcomes™ for individuals with autism through education seminars, respite care, social skills classes, referrals, support meetings, events and more.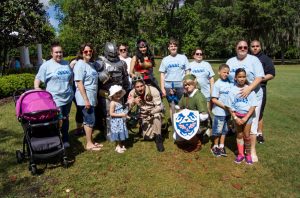 Our characters Batman, Wonder Woman, Link, and a Ghostbuster had the pleasure of being in the thick of the activities held that day. We took photos with children and adults, enjoy speeches from local political figures, enjoyed watching children getting their faces painted, and kicked off the walk while proudly holding the organization's banner.
Wonder Woman had the pleasure of making a number of new best friends. Was given a flower from a certain young boy while also making another little baby fall in love. She definitely had a Wonderful day in Ocala.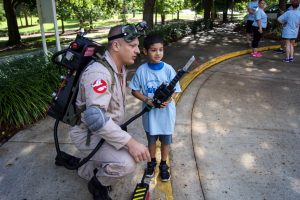 To the same effect, our Ghostbuster had a blast entertaining the attendees with his proton pack, complete with everything from sound files, smoke effects, and the ever-popular Ghostbuster's theme song. We had many dance break downs through out the day with young and old. Luckily,  no one found any Ghosts to bust on this day.
Outreach Autism Services Network (OaSN) had a fantastic announcement to make at the event, their mission to create a school for children with disabilities is coming to fruition. Guardians of Justice is so excited to have made a partner through this great group of people.