Guardians of Justice members spread some holiday cheer at Outreach autism Services Network's Christmas party hosted in Ocala this past weekend. Although it was a small group for such an occasion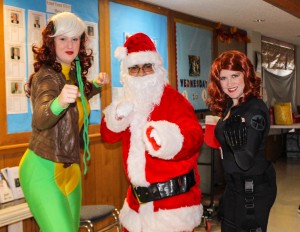 during this most wonderful time of the year, Rogue and Black Widow were able to share and experience quality moments with over 80 families in attendance. We laughed, we smiled, we danced, we ate pizza. So. Much. Pizza.
The christmas party was structured with 3-4 different activity locations for children to participate in which included a Sensory-Safe Santa, meeting our guardians, and an arts & crafts station where they decorated their own ornaments and stockings. At each workshop, they collected stickers of participation and once their passport had been fulfilled, they (or their parents) were granted full access to pick a few items from the ever-magical and mysterious Toy Room of goodies and gifts.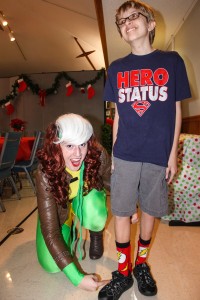 Of notable mention amongst our little VIP superstars in attendance, it was so great to see Super Denver lookin' sprite and light on his fast feet with an awesome pair of The Flash socks – capes and all. We see Denver here and there at some of other yearly events benefitting autism. It is always so nice to see him and receive a nice warm hug!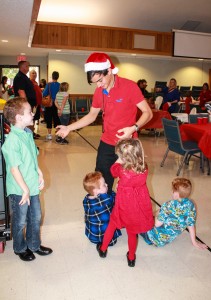 We also wanted to give another shout-out to Jonathan (photo right), who was a phenomenal volunteer, assisting with keeping the kiddos occupied while their families were in the Toy Room putting some Christmas magic into a sack to haul home. He is chock-full of future Guardian potential. Hit us up when you're 18, Jordan. As Uncle Sam said it in his posters… "We want YOU" for GoJ. You'd make a great Peter Pan!
Thank you again to Outreach autism Services Network for hosting and collaborating logistics for such a great event. This was their 5th annual christmas party and it was truly an inspiration and absolutely our pleasure to work alongside such fascinating and giving people. 'Tis the season for some, but these folk work hard all year round.
Take a peek at our full gallery of photos from the event here:
OaSN Christmas Party – Photo Gallery