Hello, Project C[hair]ity partners!
We are SO EXCITED to begin a new partnership between Project C[hair]ity and Give Kids The World! Thank you so much for wanting to donate your time, talents, and passion to creating magical memories for our families.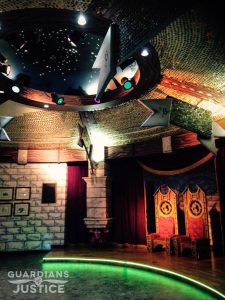 Give Kids The World Village is a 79-acre, nonprofit resort in Central Florida that provides weeklong, cost free vacations to children with life-threatening illnesses and their families. We are privileged to receive approximately 168 families every week, each family coming to us under tragic circumstances, but leaving feeling like they can conquer the world! Our motto is "happiness inspires hope", and we truly believe it! Our entire mission is dedicated to ensuring that these families have the best week of their lives, no exceptions, no matter what their abilities or circumstances.
This desire led us to create a program called Personalizations, where we discover ways to go above and beyond making every individual guests' wishes come true. For many guests, this includes a character makeover transformation! Since Disney's Bibbidi Bobbidi Boutique fills up over 6 months in advance, here at the Village we take on the task of providing princess transformations and makeovers for children who cannot be booked BBB appointments. As the Village has grown, this Personalizations program has ballooned to incredible proportions. We want to continue to make this experience the best that we can!
When we discovered Project C[hair]ity, it seemed like a match made in heaven. Between the two of our organizations, I believe this partnership is going to be an amazing opportunity to create lasting memories for our families, giving them personalized transformations into their favorite fantasy characters and even gifting them with a professional quality wig that they can take home and cherish forever.
How is Project C[hair]ity stepping in?
Project C[hair]ity will be regularly donating wigs to Give Kids The World from our partnership with Arda Wigs. There are three ways our guests can get makeovers here at the Village, and YOU can get involved!
The La-Ti-Da Spa
This is an on-site venue where guests can get nails, facepaint, makeup, and airbrush tattoos. Due to the popularity of makeover transformations, the Spa will be expanding in early 2017 to include "Crazy Hair" hairstyles and expanded airbrush tattoo offerings! La-Ti-Da Spa shifts are open daily, so you can sign up for shifts whenever you are available!
Once Upon A Village party
This storybook-inspired party happens every Friday evening here at the Village. Our guests get the opportunity to get pirate, princess, mermaid, or knight facepaint makeovers and meet some incredible characters!
Personalization Program
This is the program mentioned above. If a guest wishes a specific type of makeover (like an Elsa, Belle, , Cinderella, Tinker Bell, etc.), or if they have special needs like such as if they require a wig. We bring in a volunteer specifically for them and open up the Spa for a one-on-one private makeover that can include any and all of our offerings. These have no time limit, are scheduled on a case-by-case basis, and are typically scheduled with about 1-to-2 weeks' notice. You will be notified if the personalization requires a wig, and what style the guest will need. This is easily one of our most magical and memorable ways that we can impact our families, making them feel like true VIP royalty!
I want to get involved! Where do I sign up?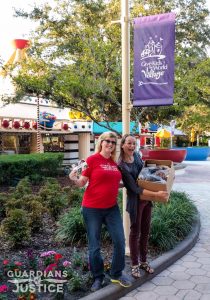 You will need to fill out an online application form.
Call Volunteer Services at 407-396-0770 and schedule a time to attend an on-site Volunteer Orientation. Orientations are held Wednesdays @ 3:30–5:30pm, and Saturdays @ 1–3:00pm.
Once you have taken your orientation, you will be given a login ID that you can use to log into Volgistics, our online volunteer scheduling system. That way you can schedule yourself to come in for spa shifts, party shifts, or anywhere else you would like to volunteer!
To sign up for the spa shifts that include hair and airbrush tattoos, you will need to sign up for an additional training class held Saturdays from 2–4pm. This will teach you how to clean and troubleshoot our airbrush equipment, as well as show you our Crazy Hair tools and give you some play time to practice!
Let your Guardians of Justice know you have taken Orientation. They will forward your name onto us, and you will be put on a short-list of volunteers to contact in case of any Personalization requests.
Can I take photos?
Due to our photo privacy policy here at the Village, you are not allowed to take any photos of our guests on your personal devices. However, you are welcome to take photos of yourself or in any of our public areas.
Can I come in costume?
Due to our existing partnerships with corporate partners in the Central Florida area, you cannot cosplay as a licensed character while on Village premises. We do have a character program in the Village which includes many fairytale characters and guest interaction opportunities, so feel free to ask any of our Entertainment Staff about our characters while you are here volunteering and we would be happy to provide you details on how to get involved! Disneybound and Marvelbound outfits etc. are acceptable, and feel free to wear your Guardians of Justice shirts!
Thank you so much for wanting to get involved with Give Kids The World Village! Please don't hesitate to reach out with any questions you may have. I look forward to seeing you all out on the Avenue!