As the sun shone down in a gorgeous Bradenton, a sea of  neon green shirts could be seen dancing to the DJ's music. As the 2017 Manasota BUDS. Step Up for Down Syndrome Walk kicked off to a rocking start!!!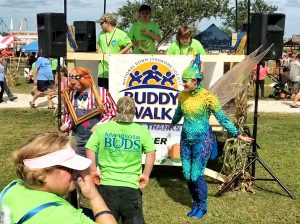 Families and friends came from all around Manatee, Sarasota, and surrounding counties to show support and love for the children they know with Down syndrome. Our Guardians knew they needed to attend once again this year so they were able to see all the smiling faces!!! Alice and Tooth spent the day laughing, dancing, and making new friends down at Hunsader's Farms.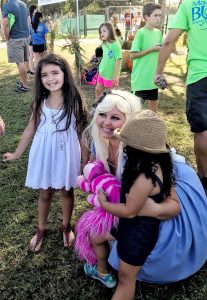 The children and their families all had a plethora of fun to choose to partake in as the day flew by. From face painting, badminton, pictures in the pumpkin patch, a pirate ship and so much more. Tooth said that her favorite part of the day was high-fiveing to everyone as they started out on their annual walk through the farm. As all of the participants walked through the starting arch our Guardians could feel the love and support for all of the children that these family and friends had for their own heroes. Their heroes done wear capes like some of ours. However, they have some of the best smiles and attitudes as they marched the mile walk and then back into the party of an event!
Since 1995 the Buddy Walk has been celebrating children and families whom are affected by Down syndrome with events that strive to promote acceptance and inclusion for all. This annual fundraising event gives back to local programs and services that are available for those affected with Down syndrome.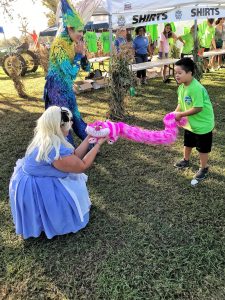 Tooth and Alice put on their dancing shoes once the walk had finished and enjoyed dancing away the day with the Manasota BUDS King and Queen. As prices and baskets were raffled off our Guardians were able to enjoy all of the families and even got some keepsake photos! "Everyone was so friendly and gave such great hugs" said Alice. Even Cheshire got involved in the fun!!! Our handler worked overtime to help our guardians meet as many children and families as possible! We all really had a blast at this event! We can't wait till next October to do it all again!!