Saturday March 26th the Guardians partnered with Village Walk of Sarasota, for their annual Easter egg hunt. The rain stayed away so that some fairy friends could fly, Batman even came by all the way from Gotham City!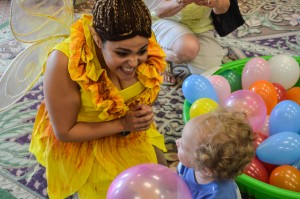 Village Walk has major holiday events throughout the year that help bring the families that live in the community together, as well as have some grandparent time! The Village Walk administrative staff holds events that help other charity organizations such as; Toys for Tots, Cookies for Troops and more.
When our Guardians arrived they were greeted by over 200 children, parents, and grandparents in attendance.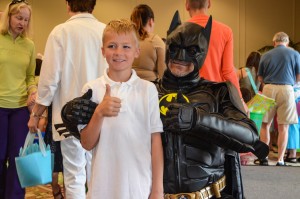 Festivities began with a game and our Guardians were split into 2 groups. The game was to see who could build the tallest egg crate tower. Turns out that Batman is a great architect, Fawn and Iridessa should stick to animals and rainbows.
Following games, all of the children we grouped by their age and dove into kiddie pools filled with colorful balloons. Hiding under all of the balloons were the coveted candy filled Easter eggs! Our Guardians had a mission and hopped from pool to pool helping the children find the numbered eggs 1 to 12. Balloons were flying everywhere as the kids hunted for the numbers they needed. With Silvermist and Iridessa only seeing balloons for their first time, they got a little caught up in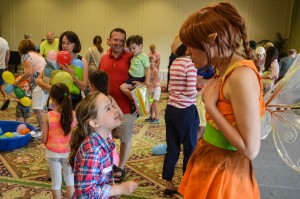 learning what they were for. I think they snuck some back to Pixie Hollow to show the rest of their fairy friends.
After all the fun and games each child had a visit to the prize table for their reward of finding all 12 of their eggs. Iridessa helping pick out the most perfect prize bags for each kid. Everyone had a chance to meet with Batman and the Fairies. Some of the children even showed our fairy friends what candy was. Turns out that Batman is a fan of balloons and his new found little friends! Big hugs were given by the young and the young at heart, turns out that it's not only the children that enjoy a fairy or two.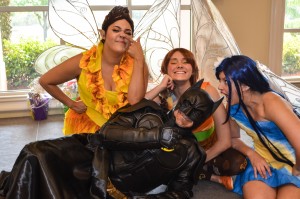 The last part of the day was a raffle where our members got to opportunity draw names for winner of some great candy filled baskets! Batman has some keen name picking techniques, making sure that each were rewarding the best prize possible.
Our visit to The Village Walk community made tons and tons of smiles and the community graciously gave back! Donations came in to GoJ, totaling $120! A big thank you goes out to those who give back. Our Guardians had a colorful and sweet blast at the Village Walk Easter egg hunt!
Tons of great photos from the event located below!