The second Annual Auburndale City Con took place Friday afternoon and all day Saturday January 21st & 22nd in downtown Auburndale at the Civic Center and outlying area.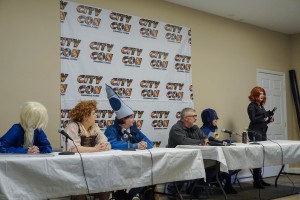 On Friday afternoon three of our Guardians members were panelists for "Cosplay for Conventions" along with "Elsa of Auburndale" and the founders of "Cospital". This panel covered starting out in cosplay, upcoming costumes each panelist had planned and a quick overview of convention etiquette for cosplayers and the general public. After the panel our booth was assembled with some assistance from assassin Black Widow and coloring pages set out as the team prepared for the main convention day.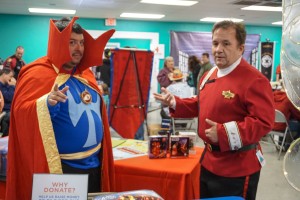 A cold, blustery day greeted convention goers Saturday morning as Perwinkle arrived bright and early to moderate "Going Undercover: The Rocket Fizz Story" with the proprietor of Rocket Fizz, Marianne Banales. Ms. Banales started the retro candy and soda company when she moved from California to Florida and was unable to bring her dermatology profession with her. She was also featured on an episode of Undercover Boss (which she told the panel was a complete surprise!) Perwinkle was impressed with both her tenacity and wit. Salem's Gyros and More were set up with delicious gyros and chicken fingers for purchase. They also had a fun wheel to spin to win prizes including cups, coupons, and T-shirts (Rogue won a shirt first try). Raphael was sad that they weren't selling pizza but he watched April O'Neil (Cathalina Libel, a Cosplay circus entertainer) give a hula-hoop performance in the vendor's hall.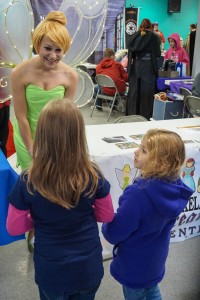 Later in the day Ms. Marvel and Periwinkle sat on the panel "Save the Universe Like a girl" moderated by David Simpson. Other panelists included writer Chuck Dixon, founder of Heroic Girls John Marcotte, and Dr. Christina Drake; a Professor at Florida Polytechnic University. Subject matter focused predominately on uplifting and encouraging girls in the science and mathematics fields, portrayal of girls in the cosplay community, and ways to encourage girls to experiment with life paths through play and representation in toys and merchandise.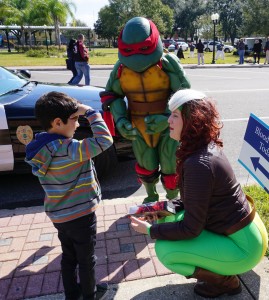 Tinkerbell and Rogue visited the Ephriam M. Baynard house for a tour; Rogue stating that the refurbished yellow building reminded her of her childhood home in Caldecott County, Mississippi. They listened to the guides explain how the local High school classes spent three years refurbishing and renovating the home -which is now listed on the national registry of historic places.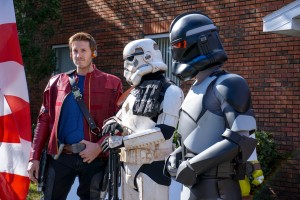 Legendary outlaw Star-Lord was on hand to ensure all the convention goers were truly "hooked on a feeling" as we spread smiles to everyone who entered the secondary convention room to warm up. Dr. Strange, Space Ghost, Phantom Stranger, An Aperture Lab technician and his test subject, and Marty McFly manned our booth and explained all about our chance drawing for donated prizes.
Special thanks go to Pink Justice Cosplay, Native Screen Printing, Samantha Lustina, Tracy Adams, and Mike Zettinig for their gracious donations. Native Screen Printing also donated gorgeous cardstock information cards with our mission statement and social media information.
Funds from our chance drawing will be used to file our paperwork to become a fully accredited 501c3 charity organization. Over the course of the two days we raised $101 and are a quarter of the way to our $400 ultimate goal!