Members in attendance for Small Business Saturday:
  Jason – Handler
  Monica – Handler
  Karissa – Briar Rose
  Micaela – Raven
  Kailey – Cinderella
  Amelia – Harley Quinn
  Jared – Beast Boy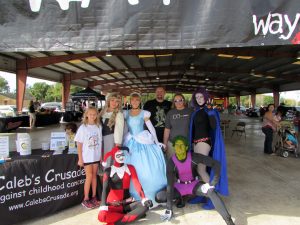 On November 26,2016 we were asked to attend the Small Business Saturday in North Fort Meyers. The event was set to benefit two non-profit organizations, the first being Caleb's Crusade – a charitable organization dedicated to aiding those dealing with the financial hardships of having a child with cancer. The other organization was titled C.A.R.E.S., a group dedicated to aiding in community awareness in recognizing behavior associated with suicide.
The weather for the event was very nice, many children were awestruck at the sight of Cinderella and Briar Rose walking elegantly among the various shops. While  Beast Boy and Harley Quinn  enjoyed a match of " Bubble Soccer " as Raven cheered them on. The group was even able to meet with Santa and one of his Elves as we made our way around the vendor area.
In the end the group had a wonderful time, bringing many smiles to children and adults of all ages.
Save