On the cool, breezy, and yet still very sunny day of Sunday May the 22nd members of The Guardians of Justice stepped out for a great event hosted by Ana Banana and Captain Joel Brandenburg. For 17 years the Ana Banana Kids Fishing Derby has been put on to benefit children with pediatric cancer and their families.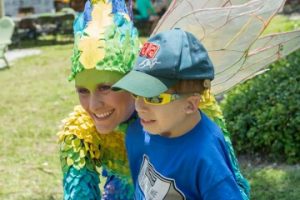 This event allows children who are diagnosed with cancer, in remission, or who are siblings of cancer patients get out and have a fun-filled day on the water. The may even actually catch some fish! This event is so special because a day full of fun and sun is just perfect for allowing these families to take their minds off of their struggles and letting them relax and enjoy the Florida beach atmosphere for a bit.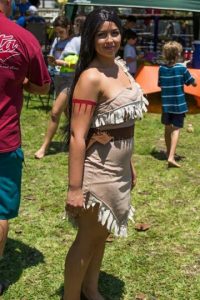 This event kicked off at Hooks Waterfront Bar and Grill at Little Harbor underneath breezy palm trees by a sparkling waterfront. Captain Joel and the Ana Banana boats pulled in and out of the dock ferrying children out and onto the open water. Other children lined up for glitter tattoos, a fast slip'n'slide down the inflatable water slides, and even bobbing for fossils from the nearby Peace River. Tooth the sparkling tooth fairy, Pocahontas, and Alice from Wonderland came out to fish as well!
Tooth learned all about the shrimp that the children were using to catch the fish from under the dock, she doesn't have many interactions with animals like shrimp in her tooth palace.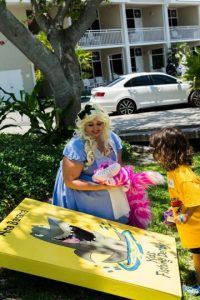 Pocahontas spent some time looking at all of the new fangled boats with some of the girls present, explaining that the ship her friend John Smith sailed in on was bigger than the trees but had huge white fabric sails instead of the things called "motors".
Alice learned a new game that involved tossing beanbag fish in to a shark's mouth, she said she thought the Queen of hearts might enjoy even more than flamingo croquet.The event was in full swing as Captain Joel called out every time someone caught a fish and after cheering the children released the fish back into the water.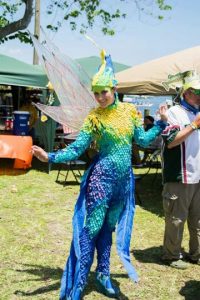 After lunch the event wrapped up with a surprise when the all of the event staff, volunteers, and the attending children sang a Happy Birthday song to a very special 17 year old birthday boy! It was excellent to see his face light up as he heard his name at the end of the song! After everyone devoured the birthday cupcakes the families present started to head home.
The children even got to take their tackle and brand new fishing rods with them curtsy of Gander Mountain! At the end of the day our three ladies enjoyed their fishy fun in the sun. We can't wait for next year's day on the Ana Banana Boats!
**Photos provided by event coordinator